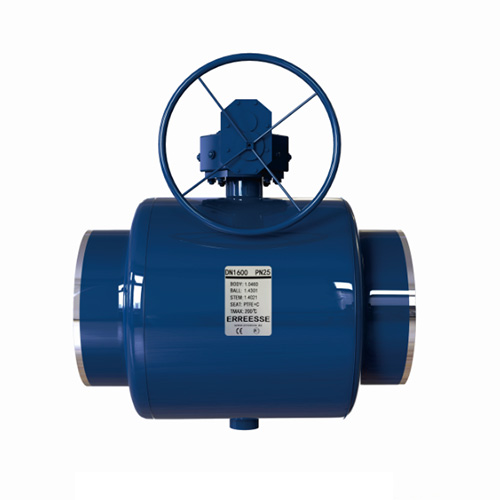 Fully welded thermal fixed ball valve
Valve size: NPS1/2 ~ NPS56 DN15 ~ DN1400
Pressure rating: 150LB ~ 300LB, PN16 ~ PN40
Material: carbon steel, stainless steel
Design and manufacturing standards: ISO14313, API 6D, GB/T 19672, JB/T 12006
Face to face standards: ASME B 16.10, API 6D
Butt welding valve end standard: ASME B16.25, EN 12627, GB/T 12224
Flange end standard: ASME B16.5, ASME B16.47, EN 1092, GOST 12815, GB/T 9113
Stress test standards: API 6D, API 598, BS EN 12266 -1
Fire safety test standards: API 607, API 6FA, BS EN ISO 10497
Quality / Product Certification: ISO 9001, API 6D, PED 2014/68/EU, EAC, ATEX and OSHAS 18001
Safety and reliability: in line with SIL3
Contact us
Specification
Valve size: NPS1/2 ~ NPS56 DN15 ~ DN1400
Pressure rating: 150LB ~ 300LB, PN16 ~ PN40
Material: carbon steel, stainless steel
Design and manufacturing standards: ISO14313, API 6D, GB/T 19672, JB/T 12006
Face to face standards: ASME B 16.10, API 6D
Butt welding valve end standard: ASME B16.25, EN 12627, GB/T 12224
Flange end standard: ASME B16.5, ASME B16.47, EN 1092, GOST 12815, GB/T 9113
Stress test standards: API 6D, API 598, BS EN 12266 -1
Fire safety test standards: API 607, API 6FA, BS EN ISO 10497
Quality / Product Certification: ISO 9001, API 6D, PED 2014/68/EU, EAC, ATEX and OSHAS 18001
Safety and reliability: in line with SIL3
NACE: in accordance with MR 01-75 / ISO 15156
Optional valve actuators: polished rods, gears, handles, pneumatic actuators, hydraulic actuators, gas actuators,
Gas oil actuator, electric actuator, hydraulic/electric actuator, hydraulic actuator
Seal rating: API 598 (zero leak), grade six (FCI 70-2), API 6D
Characteristics
Fully welded body structure to avoid leakage.
Since the seat is made of a carbonized Teflon seal ring and a spring, it is highly adaptable to changes in pressure and temperature, and does not cause any leakage within the marked pressure and temperature range.
30 years of effective service life, maintenance-free, and the same life as the pipeline.
A proprietary valve seat (multiple seal construction) guarantees zero leakage.
Directly buried valves can be provided to save wells, reduce investment in previous projects, and ensure the safety of operation and maintenance personnel.
Pressure prefabricated insulation type valves can be provided to effectively avoid the lack of on-site insulation conditions.