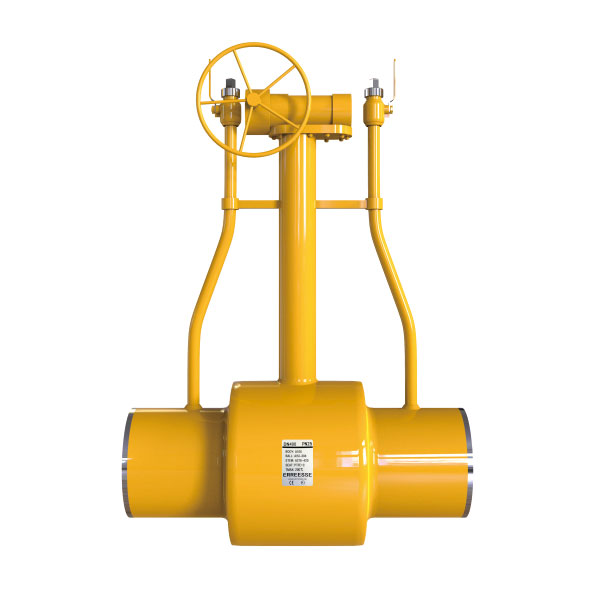 Directly burying and dissipating all-welded ball valve
Valve size: NPS2 ~ NPS56 DN50 ~ DN1400
Pressure rating: 150LB ~ 300LB, PN16 ~ PN40
Material: carbon steel, stainless steel
Design and manufacturing standards: ISO14313, API 6D, GB/T 19672, JB/T 12006
Face to face standards: ASME B 16.10, API 6D
Butt welding valve end standard: ASME B16.25, EN 12627, GB/T 12224
Flange end standard: ASME B16.5, ASME B16.47, EN 1092, GOST 12815, GB/T 9113
Stress test standards: API 6D, API 598, BS EN 12266 -1
Fire safety test standards: API 607, API 6FA, BS EN ISO 10497
Contact us
Specification
Valve size: NPS2 ~ NPS56 DN50 ~ DN1400
Pressure rating: 150LB ~ 300LB, PN16 ~ PN40
Material: carbon steel, stainless steel
Design and manufacturing standards: ISO14313, API 6D, GB/T 19672, JB/T 12006
Face to face standards: ASME B 16.10, API 6D
Butt welding valve end standard: ASME B16.25, EN 12627, GB/T 12224
Flange end standard: ASME B16.5, ASME B16.47, EN 1092, GOST 12815, GB/T 9113
Stress test standards: API 6D, API 598, BS EN 12266 -1
Fire safety test standards: API 607, API 6FA, BS EN ISO 10497
Quality / Product Certification: ISO 9001, API 6D, PED 2014/68/EU, EAC, ATEX and OSHAS 18001
Safety and reliability: in line with SIL3
NACE: in accordance with MR 01-75 / ISO 15156
Valve actuator options: polished rod, gear, handle, pneumatic actuator, hydraulic actuator, gas actuator, gas oil actuator, electric actuator, hydraulic/electric actuator, hydraulic actuator
Seal rating: API 598 (zero leak), grade six (FCI 70-2), API 6D
Characteristics
Fully welded body structure to avoid leakage.
Since the seat is made of a carbonized Teflon seal ring and a spring, it is highly adaptable to changes in pressure and temperature, and does not cause any leakage within the marked pressure and temperature range.
30 years of effective service life, maintenance-free, and the same life as the pipeline.
A proprietary valve seat (multiple seal construction) guarantees zero leakage.
The operator does not need to enter the well, and the T-handle can be used on the well for convenience and safety.
Pressure prefabricated insulation type valves can be provided to effectively avoid the lack of on-site insulation conditions.
The discharge valve is a safety device in the pipeline transportation. When the internal pressure of the pipeline exceeds a certain value, a part of the medium in the pipeline can be discharged through the discharge valve, thereby reducing the internal pressure of the pipeline.