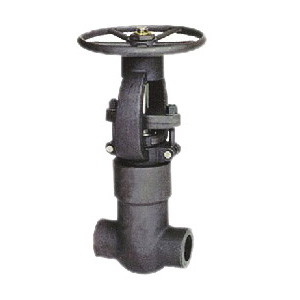 Forged steel high pressure gate valve
Valve size: NPS1/2 ~ NPS4 DN15 ~ DN100
Pressure rating: 150LB ~ 2500LB, PN16 ~ PN420
Material: A105, F11, LF2, F5, F304, F316
Design and manufacturing standards: API 602, API 600, GB/T 12234
Butt welding valve end standard: ASME B16.25, EN 12627, GB/T 12224
Flange end standard: ASME B16.5, EN 1092, GOST 12815, GB/T 9113
Stress test standards: API 598, BS EN 12266 -1, GB/T 13927
Quality / Product Certification: ISO 9001, PED 2014/68/EU, EAC, ATEX and OSHAS 18001
Valve Actuator Options: polished rods, gears, electric actuators
Sealing grade: API 598 (zero leak), grade six (FCI 70-2), ISO 5208 grade A
Contact us
Specification
Valve size: NPS1/2 ~ NPS4 DN15 ~ DN100
Pressure rating: 150LB ~ 2500LB, PN16 ~ PN420
Material: A105, F11, LF2, F5, F304, F316
Design and manufacturing standards: API 602, API 600, GB/T 12234
Butt welding valve end standard: ASME B16.25, EN 12627, GB/T 12224
Flange end standard: ASME B16.5, EN 1092, GOST 12815, GB/T 9113
Stress test standards: API 598, BS EN 12266 -1, GB/T 13927
Quality / Product Certification: ISO 9001, PED 2014/68/EU, EAC, ATEX and OSHAS 18001
Valve Actuator Options: polished rods, gears, electric actuators
Sealing grade: API 598 (zero leak), grade six (FCI 70-2), ISO 5208 grade A
Characteristics
The structure is simple, and the manufacturing and maintenance are convenient.
The working schedule is small and the opening and closing time is short.
The sealing performance is good, the friction between the sealing surfaces is small, and the service life is long.
The valve body cover is made of forged steel to avoid defects such as shrinkage, cold separation and trachoma.