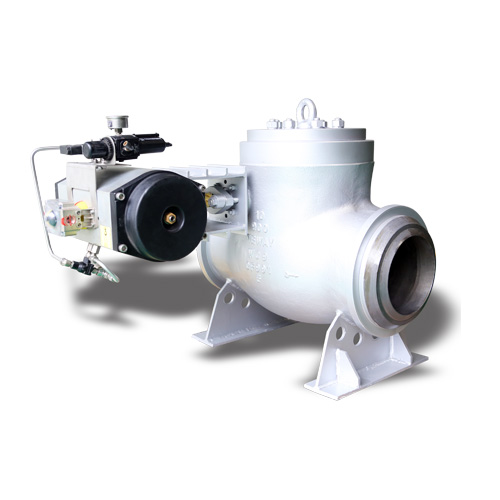 High temperature and high pressure check valve
Valve size: NPS1/2 ~ NPS4 DN15 ~ DN100
Pressure rating: 600LB ~ 2500LB, PN100 ~ PN420
Material: WC1, WC6, WC9, C5
Design and manufacturing standards: JB/T 3595, ASME B16.34, E101, GB/T 12236
Butt welding valve end standard: ASME B16.25, EN 12627, GB/T 12224
Stress test standards: API 6D, API 598, BS EN 12266 -1, JB/T 3595
Quality / Product Certification: ISO 9001, API 6D, PED 2014/68/EU, EAC, ATEX and OSHAS 18001
Valve Actuator Options: polished rods, gears, electric actuators
Sealing grade: API 598 (zero leak), grade six (FCI 70-2), ISO 5208 grade A
Contact us
Specification
Valve size: NPS1/2 ~ NPS4 DN15 ~ DN100
Pressure rating: 600LB ~ 2500LB, PN100 ~ PN420
Material: WC1, WC6, WC9, C5
Design and manufacturing standards: JB/T 3595, ASME B16.34, E101, GB/T 12236
Butt welding valve end standard: ASME B16.25, EN 12627, GB/T 12224
Stress test standards: API 6D, API 598, BS EN 12266 -1, JB/T 3595
Quality / Product Certification: ISO 9001, API 6D, PED 2014/68/EU, EAC, ATEX and OSHAS 18001
Valve Actuator Options: polished rods, gears, electric actuators
Sealing grade: API 598 (zero leak), grade six (FCI 70-2), ISO 5208 grade A
Characteristics
It is suitable for cutting or connecting the medium on the pipelines of various working conditions such as petroleum, chemical, hydraulic and thermal power stations with working temperature ≤540°C (P(57)170V working temperature is 570°C).
The product is designed and manufactured according to ANSI B16.34 and E101 standards and can be used with imported equipment.
The valve cavity adopts a pressure self-tightening sealing structure, and the higher the internal cavity pressure, the better the sealing performance. The two ends of the branch pipe are 3. The two ends of the branch pipe are butt welded joints to meet different takeover requirements.
The pressure-resistant parts of the valve are made of high-quality heat-resistant alloy steel, which has good high temperature performance, high pressure resistance, durability, safety and reliability.
The sealing surface of the valve disc and the valve seat is made of stellite cobalt-based hard alloy, which is wear-resistant, high-temperature resistant, good in scratch resistance and long in service life.
The disc rotates around the pin outside the seat to reduce the violent impact of closing.
The built-in pin structure reduces external leakage points and is more reliable to use.