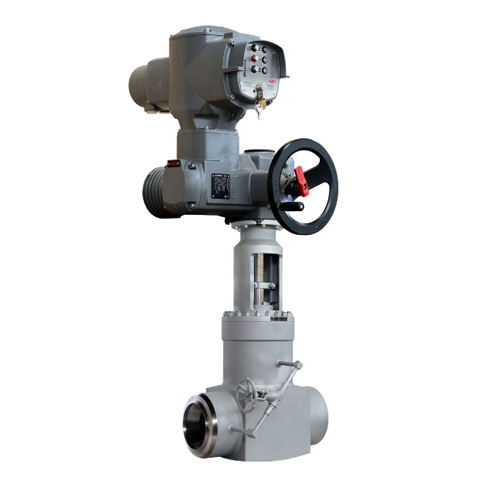 High temperature and high pressure shut-off valve with bypass valve
Valve size: NPS2 ~ NPS12 DN50 ~ DN300
Pressure rating: 1500LB ~ 2500LB, PN250 ~ PN420
Material: WC1, WC6, WC9, C5
Design and manufacturing standards: JB/T 3595, ASME B16.34, E101, GB/T 12235
Butt welding valve end standard: ASME B16.25, EN 12627, GB/T 12224
Stress test standards: API 6D, API 598, BS EN 12266 -1, JB/T 3595
Quality / Product Certification: ISO 9001, API 6D, PED 2014/68/EU, EAC, ATEX and OSHAS 18001
Valve Actuator Options: polished rods, gears, electric actuators
Sealing grade: API 598 (zero leak), grade six (FCI 70-2), ISO 5208 grade A
Contact us
Specification
Valve size: NPS2 ~ NPS12 DN50 ~ DN300
Pressure rating: 1500LB ~ 2500LB, PN250 ~ PN420
Material: WC1, WC6, WC9, C5
Design and manufacturing standards: JB/T 3595, ASME B16.34, E101, GB/T 12235
Butt welding valve end standard: ASME B16.25, EN 12627, GB/T 12224
Stress test standards: API 6D, API 598, BS EN 12266 -1, JB/T 3595
Quality / Product Certification: ISO 9001, API 6D, PED 2014/68/EU, EAC, ATEX and OSHAS 18001
Valve Actuator Options: polished rods, gears, electric actuators
Sealing grade: API 598 (zero leak), grade six (FCI 70-2), ISO 5208 grade A
Characteristics
The valve cavity adopts a pressure self-tightening sealing structure, and the higher the internal cavity pressure, the better the sealing performance.
The sealing surface of the valve disc and the valve seat is made of stellite stellite cobalt-based hard alloy, which is wear-resistant, high-temperature resistant, good in anti-scratch performance and long in service life.
The bonnet stuffing box is reasonable to try, the filler is added with corrosion inhibitor, the seal is reliable, and the switch is stable.
The valve has an upper sealing structure to ensure that the valve stem does not leak when the valve is opened.
Both ends of the branch pipe are butt welded joints to meet different takeover requirements.
The products are designed and manufactured according to ASME B16.34 and E101 standards and can be used with imported equipment.
High temperature creep resistant design.
The valve stem is made of nitriding type precipitation hardening stainless steel.
The bypass valve connects the upstream and downstream media. Under high pressure, the valve is difficult to open, and opening the bypass valve can balance the pressure.