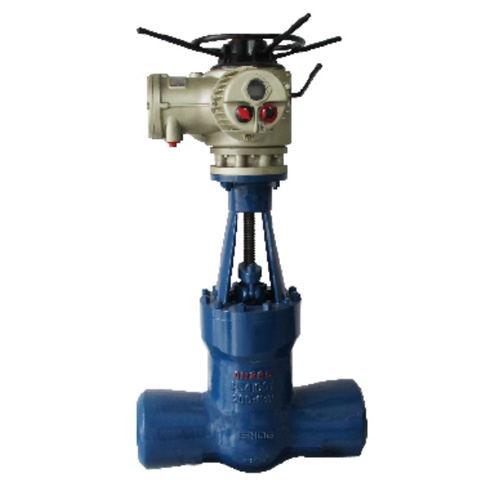 High temperature and high pressure gate valve
Valve size: NPS2 ~ NPS12 DN50 ~ DN300
Pressure rating: 1500LB ~ 2500LB, PN250 ~ PN420
Material: WC1, WC6, WC9, C5
Design and manufacturing standards: JB/T 3595, API 600, GB/T 12234
Butt welding valve end standard: ASME B16.25, EN 12627, GB/T 12224
Stress test standards: API 6D, API 598, BS EN 12266 -1, JB/T 3595
Quality / Product Certification: ISO 9001, API 6D, PED 2014/68/EU, EAC, ATEX and OSHAS 18001
Valve Actuator Options: polished rods, gears, electric actuators
Sealing grade: API 598 (zero leak), grade six (FCI 70-2), ISO 5208 grade A
Contact us
Specification
Valve size: NPS2 ~ NPS12 DN50 ~ DN300
Pressure rating: 1500LB ~ 2500LB, PN250 ~ PN420
Material: WC1, WC6, WC9, C5
Design and manufacturing standards: JB/T 3595, API 600, GB/T 12234
Butt welding valve end standard: ASME B16.25, EN 12627, GB/T 12224
Stress test standards: API 6D, API 598, BS EN 12266 -1, JB/T 3595
Quality / Product Certification: ISO 9001, API 6D, PED 2014/68/EU, EAC, ATEX and OSHAS 18001
Valve Actuator Options: polished rods, gears, electric actuators
Sealing grade: API 598 (zero leak), grade six (FCI 70-2), ISO 5208 grade A
Characteristics
Open and close without friction. This function completely solves the problem that the conventional valve affects the sealing surface due to friction between the sealing faces.
Top-loading structure. The valve installed on the pipeline can be directly inspected and repaired online, which can effectively reduce the parking of the device and reduce the cost.
Single seat valve design. It eliminates the problem that the cavity medium in the valve affects the safety of use due to abnormal boosting.
Low torque design. The specially designed valve stem can be easily opened and closed with a small handle.
Wedge seal structure. The valve is mechanically provided by the valve stem, and the wedge is pressed against the valve seat to seal, so that the sealing performance of the valve is not affected by the change of the pressure difference of the pipeline, and the sealing performance is reliably guaranteed under various working conditions.
Self-cleaning structure for the sealing surface. When the ram is tilted away from the valve seat, the fluid in the pipeline passes through the sealing surface of the ram uniformly at 360 degrees, which not only eliminates the high-speed fluid scouring on the valve seat, but also washes away the aggregate on the sealing surface to achieve self-cleaning. the goal of.
High temperature creep resistant design.
Self-sealing design, the higher the pressure, the more reliable the seal.
The valve stem is made of nitriding type precipitation hardening stainless steel.